My New Toys...
Just wanted to share my new BBQ toys with you. I have already posted pics of the
WSM
and will post some of the assembly and first cook pics soon.
Along with the WSM, I ordered the
Nu-Temp
NU701 Wireless BBQ thermometer. With it I ordered 2 of the remote transmitters (NU-751) allowing me to continuously monitor three temps at one time. Click on the pic below for a better view of this unit.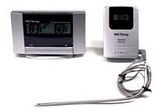 I really must give credit to Nu-Temp and their customer service. I ordered these on Saturday, August 20th and received them on Wednesday, August 24th. Also, I used this
link
from The Virtual Weber Bullet website that enabled me to save a total of almost $57.00 just on this order alone. I am not sure how long this offer will be running but if you need some new probe thermometers, now would be an excellent time to get these. I will post information regarding the use of these thermometers in the days to come.
Still waiting on the WSM and the hardware. I am ready to SMOKE!!!