Got Chicken?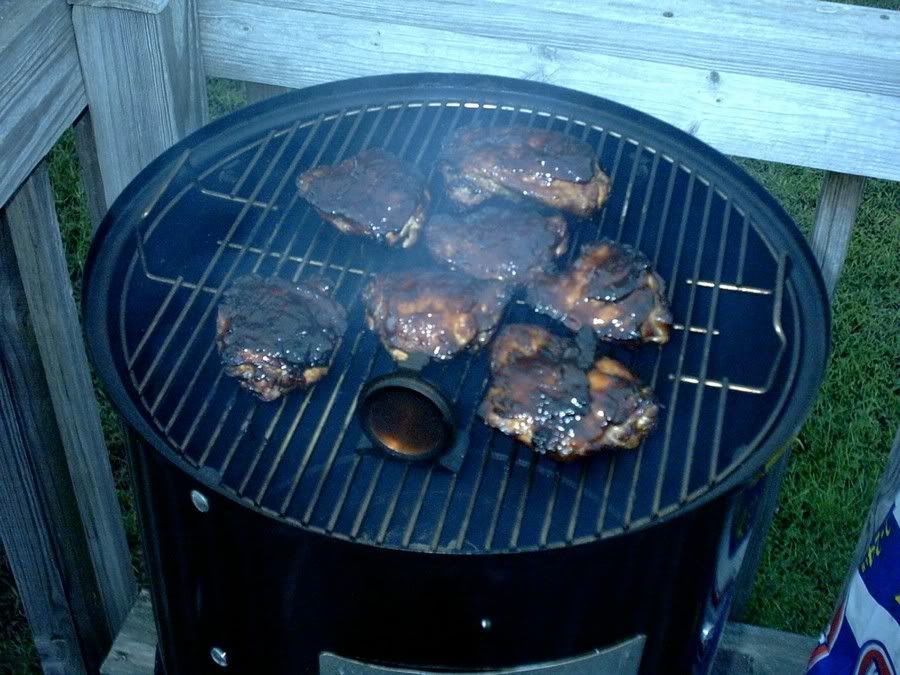 Well, as predicted, I tackled a couple of Beer Can Chickens and some chicken thighs Monday. This was my first multi-meat cook on the WSM so I was a little anxious. All in all, things went pretty well. Here is a breakdown of the prep and cook.
For BCC#1, I
River City Rubs
chicken rub. I did not have any beer or apple juice to put in the can so I used some pineapple juice.
For BCC#2, I used
Dr. BBQ's
Big Time BBQ Rub. This is my "go to" rub right now. I have used it on ribs, chicken and put in my baked beans. Basically I have put it on everything except a Tylenol and that might not be too bad either. Anyway, I put some Italian dressing and
Moore's
sauce in the can for this one (remember, no beer or apple juice?)
The thighs were divided up and soaked overnight in different marinades. I put a couple in some homemade teriyaki sauce – these were for Mrs. Smokey. Then I threw a couple in some
Soakin' Sauce
. I picked up this sauce in Helen, GA a while back but had not used it yet. No time like the present. The last three thighs, I put in a mixture I got from
River City Rub
. It consisted of part Italian dressing, Worcestershire sauce and soy sauce. I think I like this one.
I fired up 2 chimneys of
Kingsford
and foiled the water pan but did not use water. I was shooting for a temp of 325-350 for this cook. I cooked each BCC on the bottom grate, then threw the thighs on the top afterwards. The
first BCC
took a little over an hour and a half at a grate temp of 325. After putting on the second chicken, the temp never got above 300-325 even with all three vents at 100%. This one took a little over 2 hours. I then put in another lit chimney of Kingsford and removed the water pan. The temp shot up to 375-400 and the
thighs
cooked in less than an hour. I cooked them 20 down, 20 up and sauce for 20.
Here are my observations from my cooking log:
- BCC#1 had little effect from pineapple juice substitute. Skin was a little better this time. Very juicy and had a great smoke flavor.
- BCC#2 was also juicy and smoke flavored. Breast meat on both was very white while the darker meat had a reddish color from the smoke.
- Thighs were a little better this time. The skin did not shrink up as much as the quarters did. This is most likely due to the quarters being brined and the thighs being marinated.
- Thighs appeared to be charred a little on the bottom. Next time will move them around between step 2 and 3 to keep even browning.
- Basting sauce was a hit. Great combo – this time the honey did not overpower the sauce. Sweet and sticky. The rub also helped. Experimenting with Sweet Baby Rays, honey dry mustard and some bbq rub.