Post Thanksgiving Thoughts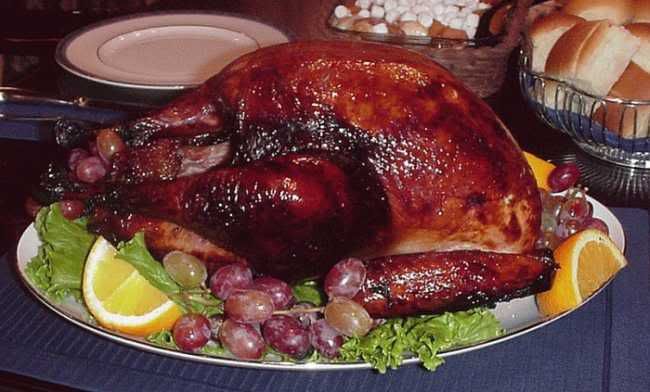 Picture compliments of Keri C. in Oklahoma. Check out her recipe for this turkey.
I hope everyone had a wonderful Thanksgiving yesterday. I also hope that among all the distractions that accompany this time of year (getting the turkey right, getting the house ready for family, thinking about going shopping early Friday morning, etc) that you took time to think about all the things you have to be thankful for. Although I had to work on Thanksgiving Day I still had time to ponder all my blessings and be truly thankful for them all.
OK, enough of the mushy stuff – let's talk some 'que!
Turkey Talk
: I had the chance to smoke two turkeys the past week. I did one at home for
practice
and then did one at work (for real). I brined both birds in Keri C's Apple Brine and smoked them on the WSM using Kingsford and apple chunks. On the one at work I used a couple of packets of
BBQr's Delight
cherry pellets toward the end. I also smoked a ham to go with the turkey and really thought the ham would be gone first and I would have some turkey leftovers. Much to my surprise, the turkey was gone and I took some ham home for sammies. That's why I am not getting paid to think.
Brisket Blunder
: I smoked a brisket on the WSM Tuesday night. I had a 12-14#
packer
that I brought home from the
MCPP
class on the 12th. I trimmed it down and covered it with a mixture of ground black pepper with garlic powder and
Bobbie McWright's Rub Seasoning
then put it on the bullet. I removed it at around 165°F and basted with a combination of soy sauce, Worcestershire sauce and apple juice before foiling and returning to the cooker. Took it off at 195°F, foiled and coolered it for about 90 minutes before slicing. Sounds pretty much routine, right? WRONG! Check out the details
here
, maybe
here
or even
here
.
Pork Project: I took one of the 11# pork butts from the freezer this morning and put it in the fridge to thaw. I, most likely, will try to do it next week if the weather holds out. We are supposed to have some pretty hefty storms blow through Sunday and Monday then I go back to work on Wednesday. If I do get to smoke the butt, I'll post some pics and let you know how everything ended up. I'm planning on experimenting with a new molasses brine.