Butts O' Plenty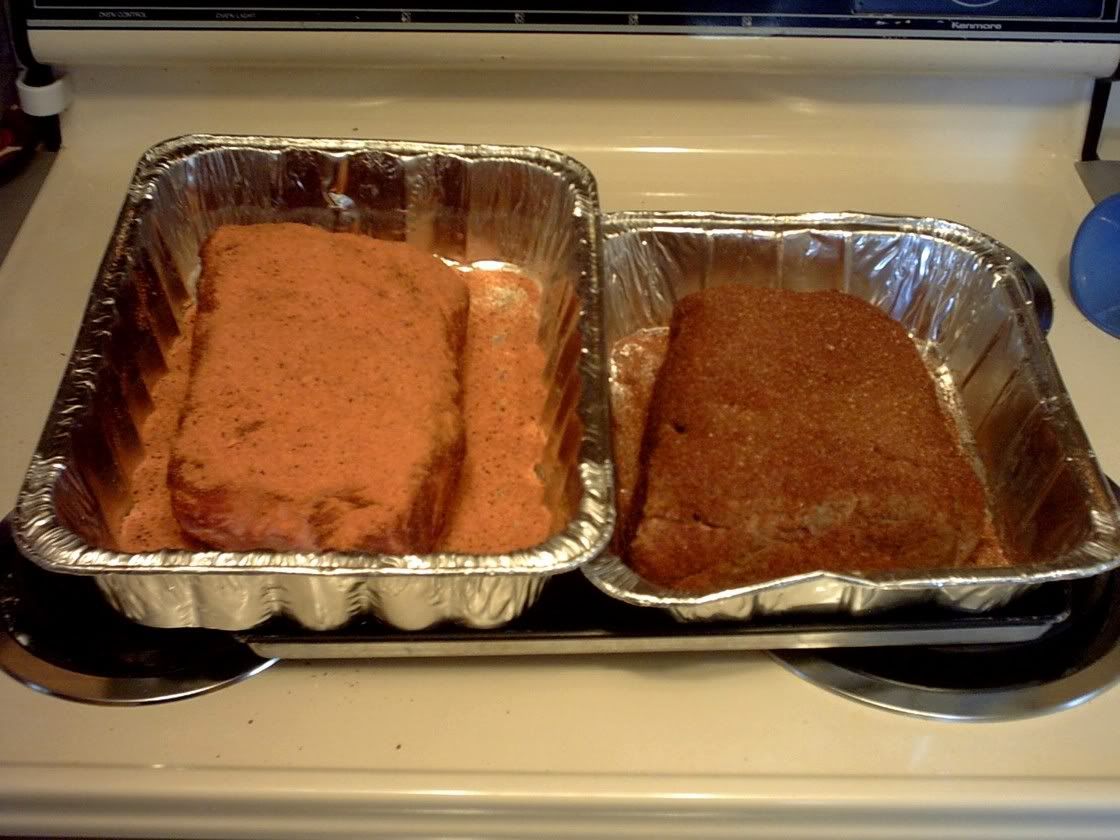 Well, I finally got around to cooking some of the pork butts that have been in my freezer for a few weeks. I was going to do them last week but the weather prevented me from firing up the smoker. This time I wanted to try a little experiment. I am trying to nail down a game plan for my competition pork for next season. After all, that is why God created winter, right? So we could all practice for next season?
Both butts had a pre trimmed weight of 11.46 pounds. After opening the cryo I noticed that these butts did not have a lot of fat on them to trim off.
After trimming
I would estimate the total weight to be right at 10 pounds or so. Here was my plans for these nice hunks of meat.
Butt #1 -
No marinade for this one. I just rubbed it with a mixture of salt, garlic powder, black pepper and
Bobbie McWright's BBQ Seasoning and Rub
.
The wood of choice for this smoke was apple and I used Kingsford Charcoal for heat. Here are the results with pictures.
Butt #1 -
The marinating did not do that much for me on this one. The meat did not taste like what I think bbq pork should taste. The flavor was good but not what I was expecting. The bark, however, was superior to any I have created. I might just stick to this rub for the bark. I want to see if I can duplicate it. The smoke ring was beautiful (almost 1/2" on estimate). I think the marinade might have helped with the smoke ring but I was not totally satisfied with the taste. This is very good table bbq but I would not put it in a turn-in box. Next time injecting might be the route to take.


Butt #2 -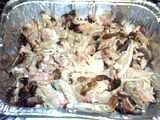 Definitely the best tasting one of the two. It was probably the best tasting so far. I put the spices on, in order, as taught by Lee in MCPP cooking class. Lee teaches that this is the stage where you are trying to create a barrier for the meat in order to get a moist product. We want the spices to dissolve into the meat, so we layer them to achieve this starting with the most water soluble ingredient - salt. Followed by the granulated garlic, black pepper and their rub.) I used a tad too much pepper this go around. Will be more careful next time. The bark was nowhere near as attractive as #1.
Final observations - if I can replicate the taste of butt #2, coupled with the bark of butt #1 - then I will be on to something. I have two more in the freezer. I think I will use the Jack's Old South Rub on one and inject it. On the other I will just use the rub.