New Favorite Snack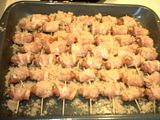 Today's entry will be short and sweet but I wanted to share this new recipe with you. At least, it is new to me.
Big Boy
posted it on
The BBQ Forum
back on December 12th under the topic of
Christmas Eve Snacks
. It is very simple to make and tastes oh so good. I made up a couple of batches last Sunday for our class and they loved it. One batch was pretty tame but I jacked up the other batch with a little cayenne pepper. Even the guy in our class who is a caterer was impressed. These will be made again. Thanks Big Boy for the recipe.
Here is what you need:
2# Little Smokies
2# Bacon
4 cups of brown sugar (I used light brown sugar)
¼ cup favorite bbq rub
Toothpicks
Here is what you do:
Cut the bacon into 3" pieces. Wrap the smokies in bacon and stick with a toothpick. Place on a foil lined baking sheet (with sides). Sprinkle with bbq rub then top with the brown sugar. Bake in a 400-degree oven until bacon is done. *Mine took about 12 minutes. This recipe makes about two batches.
I will also be cooking Christmas dinner for my family this year. So far, the menu includes Glazed Ham with Dijon/Pineapple Sauce, Roasted Red Potatoes with bacon and cheese, green beans, corn casserole and a fruit salad. My mother will be bringing the desserts. I hope she makes my childhood favorite - strawberry dumplings.
Merry Christmas from Ole Smokey!