My New Competition Rig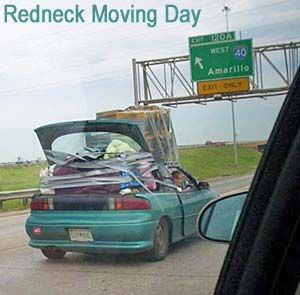 When my friend,
Taztamer
, sent me this pic today I just knew I had to share it here. It got me to thinking about all the work I still have to do to get ready for my first
KCBS
BBQ competition. My buddy Kudzu and I will be cooking at the
Mitchell Company BBQ Championship
in Mobile, AL on March 10-11. With over $20,000 in prize money up for grabs, I call this my "Baptism by Fire"! After all, I did tell someone that this is what I wanted to do. Me and my big mouth.
I am so looking forward to going to Mobile and competing but all the prep and practice is destroying my nerves. Every one I know that has competed in the BBQ circuit tells me to just relax because having fun is the main thing. Well, I understand the wisdom in their advice. However, I am a competitor and am very hard on myself when I don't perform as well as I think I should.
Forget about the fact that I have been battling some health issues this month and have not had the strength or craving to do any practice smoking. Then, there is the matter of making sure I have everything I need for the contest. I do not have to bring the meat but I will need my WSM and all the gadgets and support staff that goes along with her. I will need to remember to bring enough wood chunks, charcoal, chimney starters, rub, sauce, cutting boards, etc. Oh, yeah – I will be up all night so I need warm clothing and a sleeping bag and a cot.
I was just about to stress out when Kudzu sent me an email. His words of wisdom calmed my soul. He said, "There's a store down the road, there's a store down the road, there's a store down the road, if I forget to bring anything to the contest, there's a store down the road." I'll bring everything I can. I'll probably forget some things but there is a store down the road. I'll have fun. Lots of fun. Cook the best pork and brisket I can and just have fun.
So, if you're traveling south on I-65 from Birmingham to Mobile on the morning of March 10th and see a black GMC pick-up loaded down like
this picture
, honk and wave at Ole Smokey. I'll be headed to Mobile to HAVE FUN!!!