Getting Ready to Go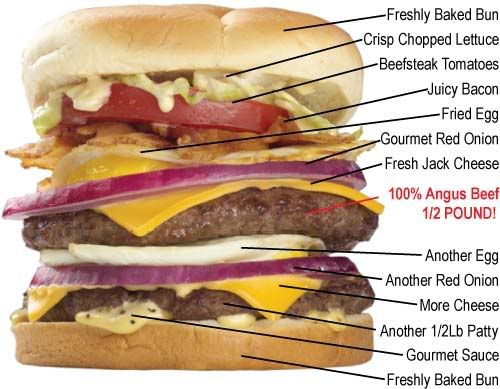 I saw this picture
posted
on the
BBQ Forum
website and had to post it here as well. It is lovingly referred to as the "Double Bypass Burger" and rightfully so. It is sold at a place called
The Heart Attack Grill
in Tempe, AZ.
Now, let's talk some bbq. It is hard to believe that next weekend (March 10-11) I will be competing in my first KCBS cook off. My buddy, Kudzu, and I will be teamed up at the
2006 Mitchell Company BBQ Championship and Hog Wild Festival
in Mobile, AL. Most contests have around 40-50 teams competing. I found out yesterday that Mobile has
80 teams
with 10 on a standby list. That will be several more teams than anyone imagined.
Thursday, I started getting things together. I even practice packed the truck to make sure the stuff will fit. I will be taking my WSM and everything else I can fit in the truck. I think Kudzu will be bringing most of the things we need but some things you just cannot leave home without. I will be making my rubs and sauces ahead of time to make things a little easier at the cook site. I have a checklist already made out so maybe I won't forget anything.
I am so excited about this first competition that I cannot stand it. I did not get to do as many practice cooks as I wanted but I feel pretty confident none the less. I look forward to the challenge of competing against some of the biggest and best BBQers around. Win or loose, it is going to be an experience that I will remember for a lifetime. It's gonna be a blast.
I will get some pics and fill you in on all the happenings when I get back. If you live in the south and have nothing to do this next weekend, come down to Mobile. We'll keep the party going till you get there.
Later,